Competition for Young Instrumentalists postponed to 2021, some news coming up…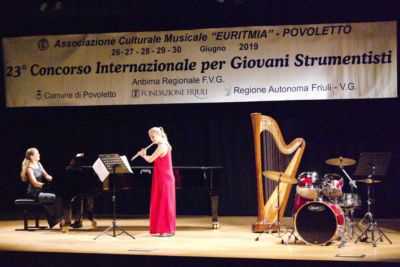 Dear Euritmia Friends,
as you might know already, our country has been severely hit by the pandemic caused by the Covid-19 virus, that is still hindering our normality and lifestyles. Euritmia is no exception. We had to pause our energies and accept a decrease on our activities. However, this break did not prevent the Music school staff from meeting online and organizing online music classes. At the same time, the rehearsals and performances of our Senior and Junior Orchestras are suspended until further notice.
It is with great regret that the International Competition for Young Instrumentalists has been paused too, due to such calamity. In fact, we decided not to stage the 2020 edition of the competition, even though we had already launched our project, drafted the regulations and we were all looking forward to it. The current circumstances eventually impacted on our choices, obliging us to adopt the decision we would have never wanted to make: reluctantly, we must give up on our Competition this year.
However, we will not get discouraged. We are already on track for the 2021 edition, and we are sure that everyone willing to participate will be thrilled to join the event next year. We have great ideas in mind for the next edition that will make the Competition even more special!
To learn more follow our newsletter (subscribe here) and social media. keep in touch!
The Euritmia Staff
---
---